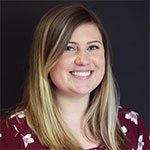 Email Aurora
Aurora joined the Master Promotions team in early 2018 as a recent graduate of Mount Saint Vincent University's Public Relations program. She also holds a certificate of Applied Media & Communication Arts from Nova Scotia Community College. This marketing and communications background helps her work on the company's wide portfolio of both trade and consumer events.
An eternal optimist and keen learner, Aurora enjoys volunteering with events in her community and spending time with her golden retriever.
Aurora is based in the Halifax, NS office.