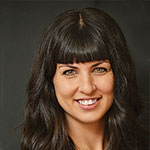 Email Kâté
Kâté joined Master Promotions after 12 years in the news business. She is an award-winning photojournalist whose work has been published in national newspapers and magazines; most of her career was focused on covering New Brunswick stories for the Telegraph-Journal. Kâté brings storytelling experience and visual thinking to her role as Social Media Marketing Coordinator, and is responsible for engaging exhibitors and customers through online channels. She understands the value and personalization that social media brings to business and branding.
In her spare time, Kâté teaches photography classes for UNB. On the weekends, you can find her playing the drums in her rock band, or skating in the local roller derby league.
Kâté is based in the Saint John, NB office.
Kâté is currently on maternity leave. For social media inquiries, contact Breagha MacDonald, our current Social Media Coordinator.