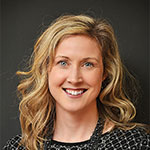 Email Heather
Heather joined Master Promotions in 2002 and brought to the team many years of prepress and design experience. She is responsible for designing a range of marketing collateral, logos and advertising campaigns for the company's trade and consumer events. She also works closely with our IT Manager to design and maintain our everchanging website.
Heather has a keen eye for detail and an excellent sense of style. Outside of work, she loves running and chasing after her young son. She also designs jewelry in her spare time.
Heather is based in the Saint John, NB office.