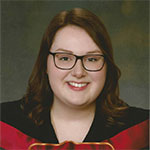 Email Alex
Alex joined Master Promotions in 2019 after graduating with a Bachelor of Arts in Music from Mount Allison. During her time at Mount A, Alex served as both Secretary/Treasurer and President of the Mount Allison Band's Society, working with fellow students and community members to organize events and fundraisers to support local music programs. Alex with be working with Master Promotions for a term before returning to Acadia to continue her education in Music Therapy.
Outside of the office, Alex enjoys spending time with family, baking, and road tripping with her friends.
Alex is based out of the Halifax, NS office.