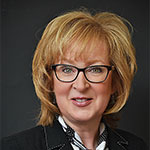 Email Catherine
Catherine joined Master Promotions in 2001 with the acquisition of the Denex Group. Her expertise in all areas of show management was an important and beneficial addition. In her role of Marketing & Operations Manager (CAEM), Catherine is responsible for advertising and marketing as well as logistics for her portfolio of consumer shows for the company.
She is President for the Canadian Association of Exposition Managers, led a task force to publish the white paper, "Best Practices for Communications between Show Managers and Facilities", and also serves as Executive Director for the Exposition Managers Society of Nova Scotia. She was selected as CAEM's Member of the year in 2012 after co-chairing the Halifax conference.
Catherine is dedicated to furthering the development and growth of the trade and consumer event industry as well as representing Master Promotions on a national level.
Catherine is based in the Halifax, NS office.