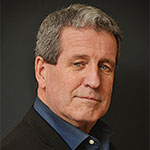 Email Keith
Keith joined Master Promotions Ltd. in 1987 following a 16-year career in the print and broadcast industries. He has worked in various roles with the company, including time as a Show Manager and later the General Manager. The 90s were a time of exceptional growth for the company, and Keith was instrumental in creating the first computerized registration system, and adding the graphics department along with additional show managers and marketing and advertising staff. Many of the new shows developed during his time as GM became the core of Master Promotions' growth, which continue to this day. Keith spent a number of years as Director of Development but eventually settled into his current role in 2009.
He continues to develop new projects within the company, but also acts in a broader consulting capacity – contributing to the research and design of new trade show and conference facilities in several Canadian cities as well as exhibit design and installation for major government and private sector groups.
Keith is based out of our Saint John, NB office.