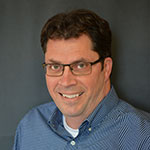 Email John
John is a recent hire in the role of Exhibit Sales. He is a seasoned salesperson with extensive sales and territory management experience in various sectors.
John's primary focus will be on the Québec-based outdoors trade shows, as well as some of the Northern New Brunswick events. After a brief COVID-related pause, John is committed to ensuring these returning events are as successful as possible. John is highly focused at developing all our customer relationships with particular attention to be offering the best customer service experience possible.
Originally from the Province of Québec, John is fluent in both official languages.
John is based in the Saint John, NB office.