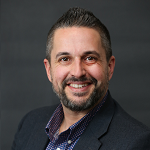 Email Terry
Terry joined the Master Promotions team in 2016 and brings a passionate, persistent, and dedicated customer-focused approach to all his clients.
He brings 25 years of experience working with various sized companies – from the second largest food retailer in Canada, to successful international start-ups – with a proven track record in sales, leadership, and event management.
In his spare time, Terry volunteers for various organizations and enjoys spending time with his young family.