March 6, 2018
Abbotsford, BC – TRADEX was filled with the region's hunters, fishers and boaters this past weekend – March 2 to 4 – for BC's largest boating, fishing, hunting and sportsmen's event: the BC Sportsmen's Show. Previously known as the BC Boat & Sportsmen's Show and BC Hunting Show, the event was met with positive reviews from attendees and exhibitors alike.
"It was great to see so many visitors back for another big show," said Show Manager Les Trendall. "This is the largest venue for the region's outdoor enthusiasts to see what's new and exciting for the year ahead. And thousands upon thousands enjoyed their chance to do just that!"
The BC Sportsmen's Show turns TRADEX into a massive one-stop marketplace for fishing, hunting and boating, with retailers and manufacturers, boats of all sizes, camping gear, ATVs and accessories, hunting gear and equipment, camo clothing, retailers, outfitters and more.
Attendance this year was on par with previous editions. More than 33,000 visitors came to shop and take in the action, including seminars with a variety of demonstrations on the Mercury pro fishing and pro hunting stages. Special appearances from JustHunt TV host Amanda Lynn Mayhew added to the excitement.
Plenty of families enjoyed a weekend at the show, with activities for children including the popular fishing pond, panning for gold, fly tying and Cabela's Fun Zone.
Sales are typically strong at this event, which has an impressive retail component. Approximately three quarters of show visitors make a purchase! Feedback from many exhibitors indicated that shoppers were again out in full force for 2018.
A popular Facebook photo contest took place in advance of the event, with the winner Ryan Hardy taking home two tickets to the show and $100. His incredible capture of an eagle fishing in Bamfield, BC was a fan favourite – see the photo and the story behind it here.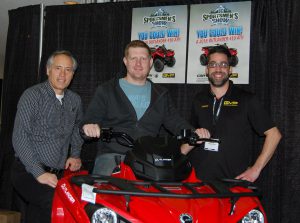 PHOTO: Grand Prize winner Dylan Murray of Abbotsford, BC (Middle); Andrew McGillivray, Sales Manager of GVPS (right;) and Les Trendall, Show Manager of BC Sportsmen's Show (left)
One of the elements that show visitors get particularly excited about is the fantastic door prizes. Congratulations to the following winners:
Dylan Murray of Abbotsford, BC was the Grand Prize winner of a 2018 Can-am Outlander 450 ATV sponsored by Greater Vancouver Powersports & BRP
Luke Morrow of Langley, BC won a Humminbird Helix 7X Sonar courtesy of Johnson Outdoors
Maria Hutchison of Abbotsford, BC won a Scorpion Premium Optics Package with Rang Finer and riflescopes courtesy of Siwash Sports
Tara Beeke of Agassiz, BC won $1,500 in Accessories courtesy of Fly Fishing Film Tour sponsors
and Larry Greenwood of Burnaby, BC won a Gold Panning Experience for four, courtesy of Yukon Dan Gold Panning!
The BC Sportsmen's Show is proudly produced by Master Promotions Ltd. Thanks to everyone who attended this year's show and best wishes for upcoming fishing, hunting and boating seasons!
Stay tuned to www.BCSportsmenShow.ca and follow Facebook and Twitter for details on the 2019 edition of the show.
Media Inquiries:
 Les Trendall, Show Manager
Master Promotions Ltd.
604-864-6800
ltrendall@mpltd.ca
Aurora Boudreau, Marketing Coordinator
Master Promotions Ltd.
902-468-5021
aboudreau@mpltd.ca