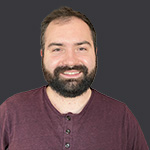 Email Liam
Liam joined Master Promotions in 2021. He graduated from the Graphic Design program at Nova Scotia Community College in 2020 and has a strong media arts background. Liam has a passion for quality design and thrives on being creative.
In his spare time, Liam enjoys a good book, PC gaming, miniature painting, bird photography, and tabletop games.
Liam is based in the Halifax office.