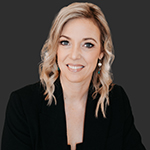 Email Cheryl
Cheryl joined Master Promotions in August 2023 after running her own fitness business for the last 8 years. Throughout her career she developed and maintained strong relationships and trust with her members which generated long term and repeat clients. She attributes her success to her ability to listen to what her clients want and puts their needs first.
Outside of work, Cheryl loves spending time with her family on and off the softball field, training and coaching women going through perimenopause and hiking with her dogs.
Cheryl is based in the Saint John Office.