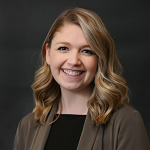 Email Hannah
Hannah joined the Master Promotions team in September 2019. She has a background in Hospitality & Events Management and graduated from Nova Scotia College of Art & Design in 2016. She is originally from the North of England, and moved to Halifax, in 2009.
Hannah brings high-quality Customer Service and strong multitasking skills. She's known for her positive attitude and always wearing a smile.
Outside of the office you can find Hannah weaving scarves at her loom or spending time with her Brussels Griffon puppy, David.
Hannah is based out of the Halifax, NS office.