Halifax, NS – Atlantic Canada's largest multi-line, indoor RV event sets up camp in the Halifax Exhibition Centre this Thursday through Sunday, January 25th to the 28th! The 2018 edition of the Halifax RV Show will showcase the latest models from 11 of the Maritimes' leading dealers:


With more than 180 units on site, the show highlights RV lifestyle products and services and information on the region's top campgrounds and vacation destinations. Visitors can also expect to take in a range of exciting features, including:
The Second Annual Halifax RV Show Washer Toss Tournament – Saturday at the show, a sold-out group of 20 teams will take part in the second annual washer toss tournament for a chance to win bragging rights and cash prizes – sponsored by Pine Acres RV and Still Fired Distilleries.
Ten Grand in Your Hand – Visitors who buy an RV at the show will have a 1 in 100 chance (approximate odds) of winning a cheque for $10,000.00!
Halifax RV Show Tech Sessions – Throughout the show, local experts will host "How To" tech sessions on helpful topics for RV owners. Schedule and location can be found at halifaxrvshow.ca/show-features.
Thank you to this year's show sponsors: RV Insure, RBC, Still Fired Distilleries, Pine Acres RV, and Cavendish Beach Music Festival.
For complete details, visit www.HalifaxRVShow.ca or follow the show on Facebook and Twitter. The Halifax RV Show is hosted by Master Promotions Ltd. and ARVDA.
SHOW HOURS:

Thursday, January 25
Friday, January 26
Saturday, January 27
Sunday, January 28
12 noon – 8:00 pm
10:00 am – 8:00 pm
9:00 am – 8:00 pm
10:00 am – 5:00 pm

LOCATION:
Halifax Exhibition Centre
200 Prospect Road
Halifax, NS
Media Inquiries:
Scott Sprague, Show Manager, Master Promotions Ltd.
ssprague@mpltd.ca
902-468-4999
Toll Free: 1-888-454-7469
Aurora Boudreau, Marketing Coordinator, Master Promotions Ltd.
aboudreau@mpltd.ca
902-468-5021
Toll Free: 1-888-454-7469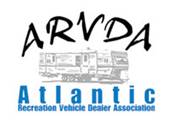 The ARVDA is a non-profit organization that is dedicated to the recreation vehicle industry in Atlantic Canada and is associated with the RVDA of Canada. Membership in the Atlantic Recreation Vehicle Dealers Association is voluntary. Applicants must provide two industry references, and agree to abide by the RVDA Code of Ethics, as well as, adhere to our Standards of Business Practice.