Halifax, NS – The 2018 edition of the Halifax RV Show wrapped up on Sunday, after four days of RV-filled fun January 25th through 28th at the Halifax Exhibition Centre.
"We couldn't have asked for better a better show this year," said Show Manager Scott Sprague. "It was a jam-packed event of exhibitors and features, and record setting visitors came to shop! Coming off of a record-setting year in sales – we beat the unit sales number in 2018, it's great to see the same great atmosphere at the show."
The show featured over 175 units on site, including the very latest makes and models from 10 of the Maritimes' leading dealers:

This year, 142 units were purchased at the show — the highest ever. Congratulations to The Langley's, winner of the 2018 Ten Grand in Your Hand prize. The Langley's bought a 2018 Keystone Bullet Travel Trailer from Stone's RV and won $10,000!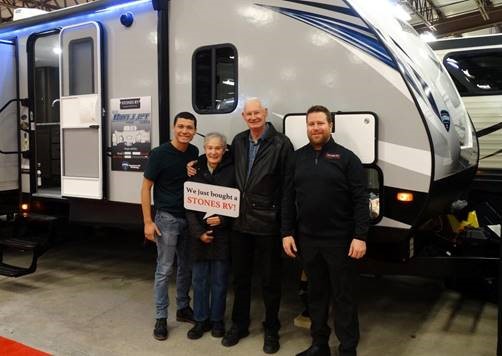 One new components featured in this year's show was a schedule of helpful seminar talks hosted by local RV tech experts. Visitors learned about heating & cooling from Fraserway RV, and towing & hitching for today's vehicles from Work & Play.
Returning this year was the second-annual Washer Toss Tournament! Teams battled it out for the coveted title, and team Roof Hound finished first and took home prizes sponsored by Pine Acres RV and Still Fired Distilleries. Congratulations!
Once again this year, the Halifax RV Show Bluegrass Special took place on the Sunday of the show. Thank you to the performers Roxeen & Dalrymple and Bluegrass Tradition for their toe-tapping, downhome performances.
The Halifax RV Show will return in 2019. To stay connected, visit www.HalifaxRVShow.ca and follow the show on Facebook and Twitter. Master Promotions Ltd. thanks our sponsors – RV Insure, Cavendish Beach Music Festival and RBC, exhibitors, and attendees for a great event.
Media Inquiries:
Scott Sprague, Show Manager
Master Promotions Ltd.
Email: ssprague@mpltd.ca
Phone: 902-468-4999
Toll Free: 1-888-454-7469
Moira Pellerine, Marketing Manager
Master Promotions Ltd.
Email: mpellerine@mpltd.ca
Phone: 902-468-4999
Toll Free: 1-888-454-7469