May 3, 2018
Montreal, QC – Hundreds of exhibitors showing off cutting-edge heavy equipment filled Olympic Stadium last Friday and Saturday, April 27 and 28, for the latest edition of Expo Grands Travaux. This mammoth heavy equipment show featured big equipment for big projects and offered tons of big iron on display from major players in the industry.
Originally started in 2006, Expo Grands Travaux now has over a decade of history and growth behind it. This year's edition was a great success, with 12,813 qualified buyers walking the show floor.
"We saw an increase of visitors this year at the show," said Mark Cusack, National Show Manager. "Friday was very steady with lines of people throughout the day. Saturday was the strongest day, with the family element clearly present. We had lots of good feedback about the quality of the attendees and sales leads generated on the show floor."
The 2018 edition included a new lunch conference on the subject of "What's ahead in the infrastructure industry for 2018-19", with speakers from the City of Montreal and the Quebec Ministry of Transportation along with live video demonstrations throughout the show. Thank you to our Platinum sponsors; LIEBHERR, TOROMONT CAT, ÉQUIPEMENTS TWIN, CIMI, and MANAC.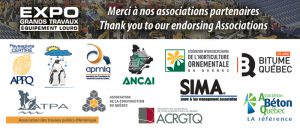 Thank you to our media partners :

Next up is TRUXPO taking place May 11 and 12 at Tradex in Abbotsford. Stay tuned to www.ExpoGrandsTravaux.ca or find the show on Facebook for details on the 2020 edition of Expo Grands Travaux.
Media Inquiries: 
Mark Cusack, National Show Manager
Master Promotions Ltd.
1-888-454-7469
mcusack@mpltd.ca
Shawn Murphy, Show Manager
(français/anglais • French/English)
Master Promotions Ltd.
1-888-454-7469
smurphy@mpltd.ca