March 19, 2019
Moncton, NB – The 2019 edition of the Moncton RV Show wrapped up on Sunday after three days of RV-filled fun March 15 through 17 at the Moncton Coliseum. Crowds of visitors came out for the event, with attendance numbers soaring above past years, and a total of 77 unit sales on the show floor.
"We were very happy to see so many visitors out all weekend," said Show Manager Scott Sprague. "We could tell that attendees were in the camping spirit. It definitely didn't hurt to see milder temperatures and signs of spring on the way, as exhibitors were busy meeting with thousands of potential customers over the course of three days."
From small towable trailers to luxurious park models and motorhomes, the show featured hundreds of units on site, including the very latest makes and models from eight of the Maritimes' leading dealers:


At the show, each visitor who purchased an RV was entered into a draw to win $10,000 – a returning crowd-favourite feature. The winner of this year's Ten Grand in Your Hand prize was the Apopei family, who purchased a 2019 Puma Travel Trailer from Leisure Time RV at the show and took home the grand prize. Congratulations!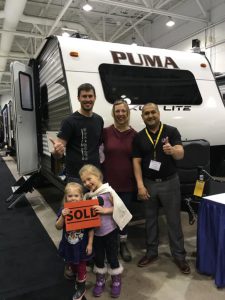 The Third Annual Washer Toss Tournament was back and better than ever. Teams came out on Saturday to battle it out and practice their throws for the season ahead. Big congratulations to Competitive division winners 'The Shooters' and second place team 'Estrella'! In the Open division, 'GoHabsGo' took first place and 'Habs' came out in second. Thank you to Washer Toss sponsor Pine Acres RV!
The Moncton RV Show will return in 2020. To stay connected, visit www.MonctonRVShow.ca and follow the show on Facebook and Twitter. The Moncton RV Show is produced by Master Promotions Ltd. in partnership with the Atlantic RV Dealer Association. Thanks to sponsors, exhibitors, and attendees for a great event.
Media Inquiries:
Scott Sprague, Show ManagerMaster Promotions Ltd.
ssprague@mpltd.ca
902-468-4999
1-888-454-7469
Aurora Boudreau, Marketing Coordinator
Master Promotions Ltd.
aboudreau@mpltd.ca
902-468-5021
1-888-454-7469