April 2, 2019
Mississauga, ON – Big crowds of heavy equipment professionals filled the halls of Mississauga's International Centre last week for the 2019 edition of the National Heavy Equipment Show, which took place Thursday, March 28 and Friday, March 29.
This year's edition welcomed 12,668 buyers, holding steady with past events. With large-scale projects planned across the country for roadbuilding, infrastructure, and more, key decision makers and purchasers came out in full force to this year's show.
"The National Heavy Equipment Show remains one of the biggest events bringing the industry together in Canada," said Mark Cusack, National Show Manager. "It was a pleasure to welcome even more companies to the show floor this year. This growth allowed us to highlight more sectors, such as the expanded Gravel Pit showing huge equipment. On behalf of show management, we're thankful for everyone who joined us. We're already looking forward to 2021."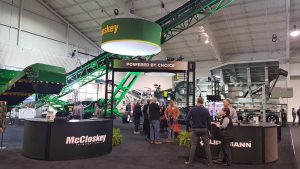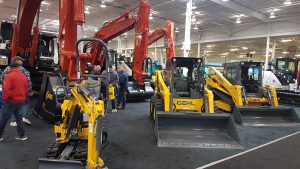 Show attendees included a mix of industry professionals including the leaders of the construction, road building, land improvement, and infrastructure industries – along with job seekers, students and those training for specific trades, and some families with young children taking in the displays of big iron on the show floor.
Special features included the Ontario Asphalt Pavement Council (OAPC) Spring Operations Seminar, as well as many other exciting components including the Recruiting Here feature, and a variety of informative seminars on topics ranging from Virtual Reality to Drones.
Thank you to On-Site Magazine and OAPC for their continued support of the National Heavy Equipment Show.
We now look forward to the next edition of this show in the spring of 2021; stay tuned to www.NHES.ca for updates.
Media Inquiries:
Mark Cusack, National Show Manager
Master Promotions Ltd.
mcusack@mpltd.ca
1-888-454-7469
Aurora Boudreau, Marketing Coordinator
Master Promotions Ltd.
aboudreau@mpltd.ca
1-888-454-7469