October 23 2019 – Less than one year remains until DEMO International® takes over the Ottawa/Gatineau area, September 24 to 26, 2020. A world-class event for the forestry industry, this edition will be hosted by SBC Cedar (SBC) on one of their forest properties in Venosta, Quebec.
Occurring only every four years in different regions across the country, 2020 will mark the 14th edition of DEMO® International. Over the course of its 50-year history, DEMO® International has evolved into one of North America's largest and unique outdoor equipment shows. The "all live and in action, in-woods" event will attract thousands of leaders in the equipment manufacturing sector featuring the latest technologies in forestry equipment, products and services covering all aspects of woodlands operations, including fully mechanized to small-scale forestry operations.
"Hosting DEMO in the Ottawa Gatineau region with its rich forest heritage is a perfect venue to showcase the forestry sector and sustainable forest practices and technologies," says Peter Robichaud of the Canadian Woodlands Forum. "With planning well underway, the response from the forest industry, levels of government and the private woodlot sector has been extremely positive; the excitement and buzz is starting to build."
"Our multiple site selection visits have gone exceptionally well; our list of exhibitors is growing and over 70 per cent of available active space has been booked," says Mark Cusack, National Show Manager with Master Promotions Ltd. "A new addition for this upcoming edition is the small-scale forestry feature, which will bring in an even wider range of exhibitors and visitors than ever before."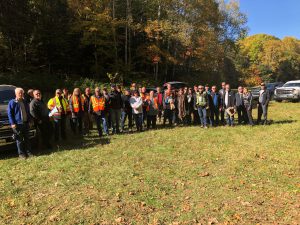 Exhibitors and show organizers at a site selection meeting in early October.
As the 2020 event approaches, details including the site map are becoming finalized. For a look at current major exhibitors and the preliminary floor plan, click the image below: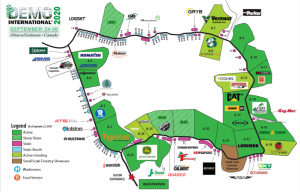 As part of DEMO International®, there will also be a pre-show conference—"Digital Transformation in Forest Operations: A leap forward in driving business growth & competitiveness", being held September 22-23 at the Delta Ottawa City Center, Ottawa, Ontario. Visitors can stay tuned for registration updates for both the conference and the in-forest trade show in the months ahead.
For exhibitors who wish to become a part of this exciting event, visit www.demointernational.com/exhibit  or contact Mark Cusack, National Show Manager, via the contact info below.
ABOUT SBC CEDAR
SBC Cedar (SBC) is a family-owned company that specializes in the manufacturing of eastern white cedar products including natural & finished cedar shingles, the largest producer of factory cedar shims in Canada, and full utilization of its residues to produce horticultural mulch. With the family's fourth generation at the helm, SBC continues to devote its talents and expertise to making a wide range of products of exceptional quality all the while respecting its employees and business partners. Thanks to its seasoned team, paired with North America's most sophisticated machinery, SBC sets itself apart by constantly focusing on innovation.
ABOUT CANADA WOODLANDS FORUM (CWF)
The CWF is a not-for-profit membership based organization recognized for its commitment to improving the efficiency and profitability of knowledge-based woodlands operations. The programs and services offered by the CWF help foster improved communication and business relationships, and provide the opportunity for members to network and share best practices, technologies and innovation.
For more information on DEMO International® 2020, contact: