For Immediate Release
Issued: March 24, 2022
Toronto, ON – The Toronto Sportsmen's Show returned with a bang this past weekend. After being postponed the last two years, ten's of thousands of outdoor enthusiasts from across the province flocked to the International Centre over the course of four days, to express their excitement for the show's return. The event was met with an overwhelming number of positive reviews from attendees and exhibitors alike.
"It was amazing to see so many hunting, fishing and outdoor enthusiasts return to the show after two years," said Show Manager, Mike Blakoe. "This is the largest venue for the region's outdoor enthusiasts to see what's new and exciting for the year ahead. It was a weekend enjoyed by all."
The International Centre was transformed into a massive one-stop marketplace for fishing, hunting, boating and outdoor gear, with over 250 retailers, manufacturers, outfitters and more.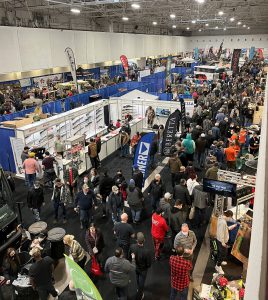 Plenty of families enjoyed a weekend at the show, with activities for children including the ever-popular trout and casting ponds and educational seminars on both the Great Outdoor Stage and the Fish TV Stage, presented in partnership with the Ontario Toyota Dealers.
Sales were exceedingly strong at this event, which it's impressive retail component. Feedback from many exhibitors indicated that shoppers were again out in full force for 2022, with many purchases being carried out the doors.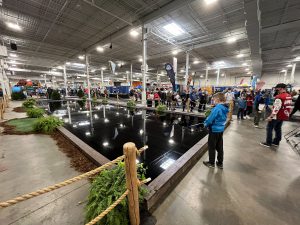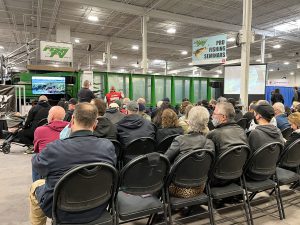 One of the elements that show visitors get particularly excited about are fantastic prizes. Congratulations to the following winners:
Issac Lipson from Niagara Falls, Ontario, was one of the Door Prize winners of the Stoeger Airgun Prize Pack which includes a Stoeger s4000e Sport Syn .177 Combo 4×32 Scope, target spinner and cleaning towel.
Lauren Good from Cambridge, Ontario, was the second Door Prize winner of the Burris Adventure prize pack which includes a Burris Droptine Bino.
Brady Lipson from Coboconk, Ontario, was the winner of the casting pond's Columbia Gear prize pack which included a Jacket & Bib set, two long sleeve shirts, an arm sleeve, hoodie and hat.
The Toronto Sportsmen's Show is proudly produced by Master Promotions Ltd. Thanks to everyone who attended this year's show and best wishes for upcoming fishing, hunting and boating seasons!
The next edition of the Toronto Sportsmen's Show is scheduled to return March 16 – 19, 2023. Stay tuned to www.torontosportsshow.ca and follow Facebook or Instagram for upcoming details.
Media Inquiries:
Mike Blakoe
Show Manager
mblakoe@mpltd.ca
416-420-1800
Moira Pellerine
Marketing and Operations Manager
mpellerine@mpltd.ca
1-888-454-7469