For Immediate Release
Issued: January 30, 2023
Halifax, NS – The Halifax Exhibition Centre will be taken over by the region's favorite boating showcase this weekend, February 2-5. Starting Thursday, visitors will get a glimpse at the year's largest display of watercraft at the Halifax International Boat Show. The last edition of this highly anticipated event took place in 2020. This comeback edition will feature the latest in runabouts, cruisers, motor yachts, pontoon boats, fishing boats, inflatables, RIBS and personal watercraft.
"The return of this show has been a long time coming" says Scott Sprague, Show Manager. "The boating community in Halifax and surrounding areas is huge. There is no doubt the Exhibition Centre will be jam-packed for the entire 4-days of the event."
The 2023 edition gathers an impressive grouping of models from the following leading dealers: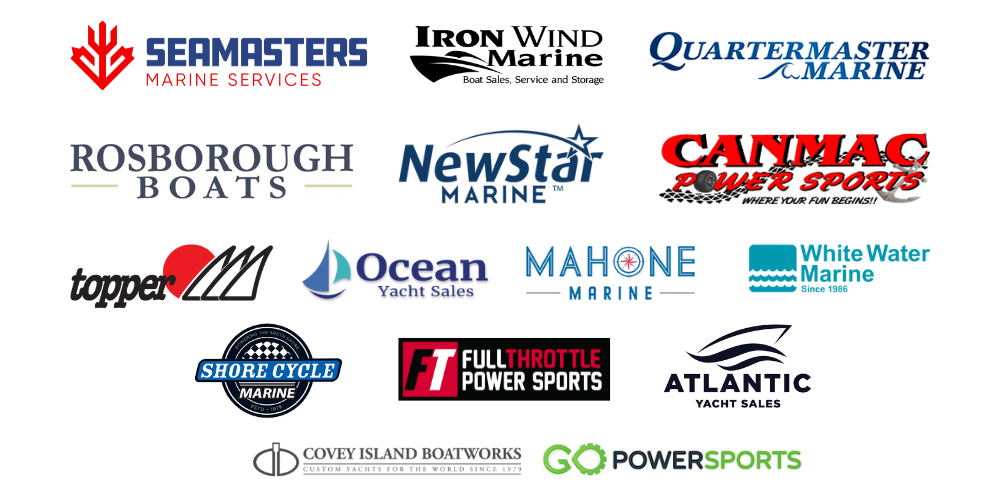 For a sneak peek of the show, check out the official show guide sponsored by Navigator Magazine! Some of the amazing features highlighted at this year's show include:
• Door prizes: Scan the QR code upon entering the show for the chance 1 of 3 prizes: A swi-tec self-adjusting anchor body from Crafts Cove Marine, A ICOM M25 Handheld VHF Radio from The Binnacle or a Mustang manual inflate life jacket from Quartermaster Marine!
• FeedNS Food Drive: Visitors to the show who bring a non-perishable food item in support of Feed NS will be entered to win a two-person towable supplied by Maritime Marine Supply!
• Discovery Centre exhibit & touch tank: Family and friends can explore the wonders of STEAM (science, technology, engineering, arts, & math) and test out the static generator, marble run, circuit-building, optical illusions, and more at the show. PLUS, kids have an opportunity to meet some aquatic creatures at the touch tank! (Happening Saturday, February 4th from 12:00pm – 5:00pm.)
• Guest speakers and presentations on topics such as: The Story of Nova Scotia's Worst Shipwreck, Helly Hansen Chester Race Week 2023, Cold Water Immersion, Tips for Cooking Onboard, A Fresh Look at Boating Safety Equipment and Oak Island, Pirates Shipwrecks & Treasures of the Atlantic! Plus – Be sure to stop into the Boating 101: Q&A Panel. Seminars happening all afternoon, Friday and Saturday!
• Heritage Boat Yard Co-op: Come view a 14' and 17' plycraft at the Heritage Boat Yard Co-op booth. In addition, there will be workshops for children to expand their knowledge on boatbuilding plus take in some live music and sea shanties on site.
• And so much more!
Visitors are encouraged to skip the line at the door by purchasing tickets online in advance. Regular adult admission is $12.00, Students & Seniors are $10.00, a Family pass is $30.00, and children under 12 are free of charge. Tickets are valid for the entire weekend and will also be available at the door during show hours.
More details about the show, including show features can be found at www.halifaxboatshow.com. Also be sure to follow the event on Facebook and Instagram for more.
HOURS:
Thursday, February 2 from 10:00 am to 8:00 pm
Friday, February 3 from 10:00 am to 8:00 pm
Saturday, February 4 from 10:00 am to 7:00 pm
Sunday, February 5 from 10:00 am to 5:00 pm
LOCATION:
Halifax Exhibition Centre
200 Prospect Road
Halifax, NS
ADMISSION:
$12.00 Regular, Adult Admission
$10.00 Student and Senior
$30.00 Family Pass (2 adults + 2 juniors)
FREE admission for 12 and under
MEDIA INQUIRIES:
Scott Sprague, Show Manager
Master Promotions Ltd.
ssprague@mpltd.ca
1-888-454-7469
Breagha MacDonald, Marketing and Operations Manager
Master Promotions Ltd.
bmacdonald@mpltd.ca
1-888-454-7469
The Halifax International Boat Show is owned by the Boating Atlantic Association and produced by Master Promotions Ltd.
Master Promotions Ltd. has been producing trade shows, consumer shows and conferences in Canada since 1973. Managing in excess of twenty-five events annually, Master Promotions Ltd. is Canada's largest independent trade and consumer event management company. For complete company information and event schedule, visit www.masterpromotions.ca.