For Immediate Release
Issued: March 20, 2023
Prince George, BC – After 4 years away from the show floor, Canada North Resources Expo will make its big return to the CN Centre in Prince George, BC on May 26th & 27th. The 2023 edition will mark the fifth anniversary of this key event focused on major resource sectors vital to Northern Canada's economy, including forestry and heavy construction. Visitor registration is now open.
"We are thrilled to be back in the planning process for this event" says Mark Cusack, National Show Manager. "Exhibit sales have been extremely strong and there are lots of exciting things coming together to revamp this show that we're confident our visitors will enjoy."
Filling an expansive four acres of exhibit space, Canada North Resources Expo features all the equipment needed to get big jobs done. Hundreds of industry leaders from the following sectors will be in attendance: Forestry, Mining, Screening/Crushing/Recycling, Trucking and Transportation, Contractor/Construction, and many others.
Major exhibitors and manufacturers have already signed up for the event include: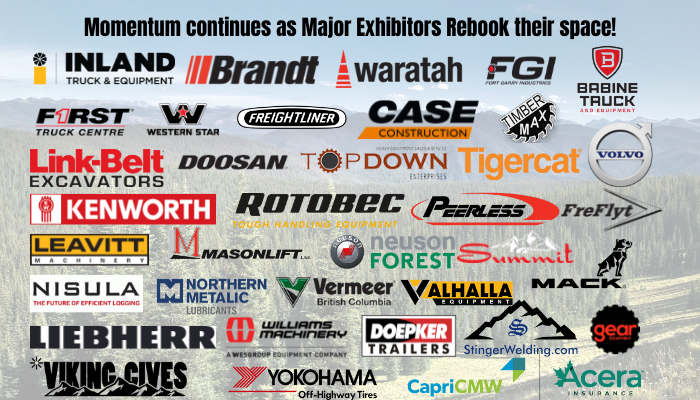 Pre-registering online allows attendees to plan their visit in advance and receive exclusive communications in the months leading up to the event. Registration is newly open online here.
Canada Resources North Expo has strong ties to the community and local not-for-profit organizations. Past editions have included efforts to benefit AimHi, the Prince George Association for Community Living, the Salvation Army Food Bank, and scholarship funding for Northwest Community College. Each show raises thousands of dollars to support the education of local students going into resource industry professions. Visitors can look forward to more charitable features benefitting the community, such as Family Day to celebrate the future of the industry, along with others to be announced.
ForEd, Youth for Canada will be on-site to provide a networking and career development community for students and young professionals advocating for Canada's natural resource industries. They promote people, planet, and prosperity through encouraging and facilitating balanced conversations. The Indigenous Resource Network is also on board to advocate for a sustainable future for Indigenous communities who rely on the natural resource sector in Canada.
YCR, IRN, Canada Action and Fored BC is hoping to address some of the public and media misinformation they've bombarded with, the need for facts, education and corporate funding for social media ads, as well as the many diverse and highly paid career opportunities offered by these industries. They are often portrayed as "sunset" industries in media, but this is far from the truth. They encourage the public to watch this video featuring a Metis lawyer in natural resources finance who comments on the bias and propaganda the youth are exposed to.
For complete show details, visit www.CNRE.ca or find the show on Facebook.
Show Information:
Friday, May 26 from 9:00am – 5:00pm
Saturday, May 27 from 9:00am – 4:00pm
CN Centre
2187 Ospika Boulevard
South Prince George, BC
www.CNCentre.ca
Media Inquiries:
Mark Cusack, National Show Manager
Master Promotions Ltd.
mcusack@mpltd.ca
1-888-454-7469
Moira Nordqvist, Senior Marketing & Operations Manager
Master Promotions Ltd.
mnordqvist@mpltd.ca
1-888-454-7469
Master Promotions Ltd. has been producing trade shows, consumer shows and conferences in Canada since 1973. Managing in excess of twenty-five events annually, Master Promotions Ltd. is Canada's largest independent trade and consumer event management company. For complete company information and event schedule, visit www.masterpromotions.ca.