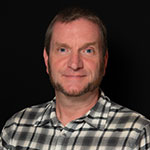 Email Mike
Mike joined Master Promotions in August of 2003. He is responsible for all of the technology that we use everyday including computers, networks, servers, and phone systems, as well as any technology that travels to our shows including the registration system. Mike also manages our website to ensure the most recent information about our shows is available to exhibitors and the public.
In his spare time, Mike teaches computer courses for Continuing Education Students at the local community college.
Mike is based in our Saint John, NB office.