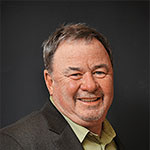 Email Wendell
Like many entrepreneurs, Wendell's start was small… literally from a makeshift office in his basement. He took advantage of an opportunity and slowly but surely grew his business from one show in a small Maritime city to a powerhouse that today represents about 30 shows from coast to coast. These shows are managed from the company's main office in Saint John, NB, along with three other offices across Canada. Over the years, the company's growth has included significant new show creation as well as the acquisition of a number of successful existing shows.
In 2010, Wendell was inducted into the Canadian Association of Exposition Management 'Industry Builder Hall of Fame'. This recognition honoured his longtime contributions to the industry as the founder of one of Canada's largest independent trade show companies.
Two years later, Wendell's dedication and hard work were again recognized, this time with an Outstanding Business Achievement Award from the Saint John Board of Trade. Master Promotions was honoured in the Entrepreneurial Achievement category of these prestigious awards.
Today, Wendell's experience spans over 40 years and Master Promotions Ltd. has become one of the most recognized names in the trade show industry, with a reputation for producing high quality, focused and very successful events.
Outside of the office, he is a competitor in the NHRA Drag Racing Series.
Wendell is based out of the Saint John, NB office.