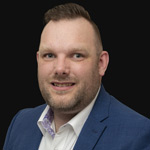 Email Pat
Pat joined the Master Promotions team in 2022 after a 20-year career in the retail industry, with 10 of those years as a General Manager with Source for Sports. Pat has years of experience where building relationships is key. He also brings with him a fresh outlook on the home show events. Pat will always bring a smile and positive attitude to all situations.
Outside of the office, Pat gives back to his community whenever possible. He is the chair of PRO Kids Saint John, an organization which helps youth access recreation opportunities.
Originally from Moncton, Pat is fluent in both official languages.
Pat is based in the Saint John, NB office.