March 1, 2018
Halifax, NS – Tomorrow through Sunday, March 2 to 4, Atlantic Canada's premier motorcycle event roars into the Halifax Exhibition Centre. With bikes for the open road, track and trail, plus apparel, riding gear, destinations, rallies and more, Motorcycle and Powersport Atlantic 2018 is a sure crowd-pleaser. Live music, a live tattooing competition, youth riding lessons, a show n' shine, stunts and more will keep show goers entertained all weekend long.
This year's show will again include everything to do with the motorcycle and powersport lifestyle. Hundreds of models will be on display – including top brands and leading dealers displaying the latest in motorcycles, ATVs, UTVs and more:

Tickets are available at the show or online at www.BikeAtlantic.ca. Adult Passes are $13, Junior Passes (10-16) are $8 (Children under the age of 10 are free when accompanied by an adult), and Full Event Passes are $20.
Attendees can enter at the show to win a White Point Getaway that includes a one-night stay in any White Point Room, with access to all recreation facilities and programs!
Some of the can't miss features happening this year:
Ink 'n Iron Tattoo Competition, taking place on Saturday at 3:00 pm. Those with tattoos and tattoo artists are eligible to enter. For details, contact Jason at 902-681-3025. Live tattooing will also take place at the show – visitors can get a tattoo on site, with several participating artists taking part in this unique feature.
Donair Date for Hospice Halifax: On Friday from 7:00 to 9:00 pm, enjoy food from King of Donair and live music fromBrass Knucklehead. $10 will get visitors a food and a drink item, with $1 from each sale supporting Hospice Halifax!
Silent Auction all weekend long to support the not-for-profit group Bikers Down.
Custom Corner with samples of custom work on display from seven shops, as well as the opportunity to talk with experts.
LIVE Stunts and demos from Stunt 902 and Maritime Trials Riders.
Kids can learn to ride with Nova Scotia Off Road Riders Association motorcycle training, sponsored by Honda Canada.
2018 Show & Shine with custom, vintage, sport, and touring bikes, along with ATVs and UTVs on display
Visit www.BikeAtlantic.ca/show-features/ for additional information and schedules.
Motorcycle and Powersport Atlantic is produced by Master Promotions Ltd. Thank you to the show's sponsors: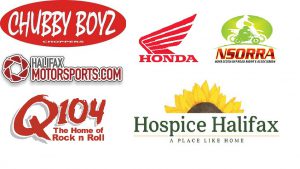 Visitors are encouraged to check www.BikeAtlantic.ca and follow the show's pages on Facebook and Twitter for the latest information.
SHOW INFORMATION
HOURS:
Friday, March 2 from 12:00 noon to 9:00 pm
Saturday, March 3 from 9:00 am to 7:00 pm
Sunday, March 4 from 10:00 am to 5:00 pm
LOCATION:
Halifax Exhibition Centre
200 Prospect Road
Goodwood, NS
Media Inquiries: 
Scott Sprague, Show Manager
Master Promotions Ltd.
ssprague@mpltd.ca
1-888-454-7469
Aurora Boudreau, Marketing Coordinator
Master Promotions Ltd.
aboudreau@mpltd.ca
1-902-229-2980
1-888-454-7469