January 22, 2019
Halifax, NS – Winter may have its grip on the Maritimes, but it's going to look a lot like summer this week at the Halifax RV Show. Opening on Thursday January 24 and running until Sunday January 27, hundreds of RV units will fill the Halifax Exhibition Centre as thousands of camping enthusiasts return to the 19th annual edition of the event.
In addition to a wide variety of camping units, the show will include RV lifestyle products, services and information on the region's top campgrounds and vacation destinations. The 2019 edition of the Halifax RV Show presents the latest models from leading dealers from across the Maritimes: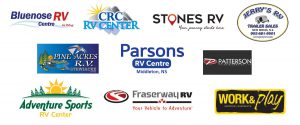 New this year, visitors will want to take advantage of evening specials: admission will be reduced to $5 after 5:00 p.m. each day of the show. Tickets are available at the door for $10.00 per adult, and juniors under 18 are free when accompanied by an adult.
As always, the show will have something for anyone and everyone – from tent trailers to large-scale luxury motorhomes, visitors will be able to climb aboard new and innovative models on today's market. Plus, visitors who buy an RV at the show will have a 1 in 100 chance (approximate odds) of winning a cheque for $10,000.00!
The Third Annual Halifax RV Show Washer Toss Tournament is scheduled for Saturday starting at 10:00 am. Teams will take part in the crowd-favourite annual washer toss tournament for their chance to win bragging rights and cash prizes. Registration is full, but spectators and washer toss fans are welcome to come cheer on the competitors in both the open and competitive leagues!
For those wishing to build on their RV knowledge and learn something new, local experts will be hosting "How To" tech sessions with topics ranging from towing to first-time buyer tips to maintenance and cooking. A full schedule for the sessions is available here.
For complete details, visit www.HalifaxRVShow.ca or follow the show on Facebook and Twitter.
SHOW HOURS:
Thursday, January 24
Friday, January 25
Saturday, January 26
Sunday, January 27
12 noon – 8:00 pm
10:00 am – 8:00 pm
9:00 am – 8:00 pm
10:00 am – 5:00 pm

LOCATION:
Halifax Exhibition Centre
200 Prospect Road
Halifax, NS
Media Inquiries:
Scott Sprague, Show Manager
Master Promotions Ltd.
ssprague@mpltd.ca
1-888-454-7469
Aurora Boudreau, Marketing Coordinator
Master Promotions Ltd.
aboudreau@mpltd.ca
1-888-454-7469