February 13, 2019
Halifax, NS – Atlantic Canada's largest boat show returned to Halifax Exhibition Centre last week February 7th through 10th, celebrating success following an increase in show traffic and added attractions. The Halifax International Boat Show, which has more than 40 years of history in the region, once again featured a sold-out show floor with the largest and most sought-after brands of boats and equipment from across the region.
At the 2019 edition, there was an increase in the number and variety of models at the show with new boats from France, Holland, Columbia, Mexico and Asia.
"It was encouraging as always to see the boating community come together for this well-attended show," said Show Manager Scott Sprague. "We certainly saw some impressive crowd levels on the weekend, with positive feedback from both customers and exhibitors on the growth of the event and its features."
"What a show! With great show weather, big crowds, high energy from all the exhibitors, a great features program and a wonderful management team, the Halifax International Boat Show just gets better," said Pat Nelder, Executive Director of Boating Atlantic.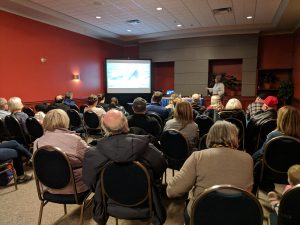 Highlights of the event included a popular touch tank of sea creatures from Back to the Sea; live boat modeling; and a series of free boating skill workshops. Special thanks to volunteers from Brier Island Whale and Seabird Cruises, as well as Mahone Bay's Heritage Boatyard Co-op for educational and informative seminar presentations.
Congratulations to winners at the show, including those who entered the popular Facebook photo contest and the door prize sponsored by Q104 and White Point Beach Resort. Thank you to all who participated in the various giveaways and contests.
The Halifax International Boat Show is owned by Boating Atlantic, the official voice of the recreational boating industry in Atlantic Canada, and produced by Master Promotions Ltd.
The next edition of the show will take place in February 2020. Stay tuned to www.HalifaxBoatShow.com for details!
Media Inquiries:
Scott Sprague, Show Manager
Master Promotions Ltd.
ssprague@mpltd.ca
1-888-454-7469
Aurora Boudreau, Marketing Coordinator
Master Promotions Ltd.
aboudreau@mpltd.ca
1-888-454-7469