For Immediate Release
Issued: March 1, 2023
Abbotsford, BC – The BC Sportsmen's Show is moving into TRADEX this weekend for its 30th anniversary edition. From March 3rd to 5th, the region will get its first taste of summer. All things hunting, fishing, camping, boating and more will be on display for visitors to get equipped for all of their 2023 adventures.
"Things are really amping up here at TRADEX" said Les Trendall, Show Manager. "The show floor is filling up quick and we anticipate the excitement levels to remain high for the entirety of the 3-day event."
Visitors can bring their antlers, horns, or heads to the show to be scored and be granted free entry! Family-friendly features will also be spread throughout the show including the BCWF Archery Demos, Pan for Gold, the ever-popular Kids Fishing Pond, and more!
The WILDTV Outdoor Stage is back for another exciting edition with presentations from some of the region's top professionals. Full schedule can be found below: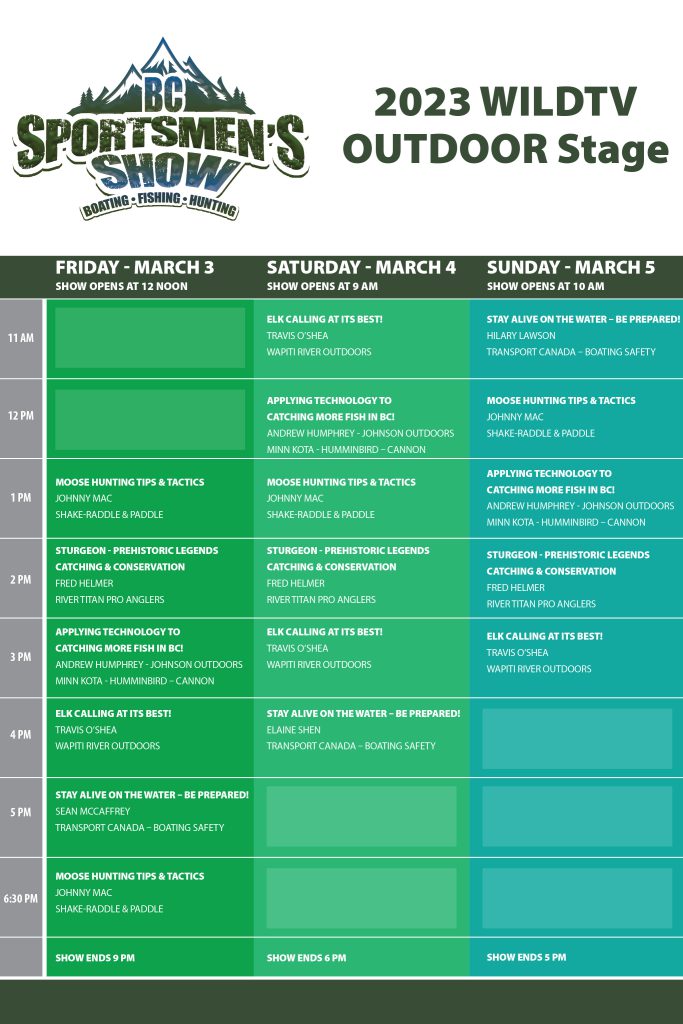 The fan-favourite fly-casting pond will also be making its return with a full weekend of scheduled fun: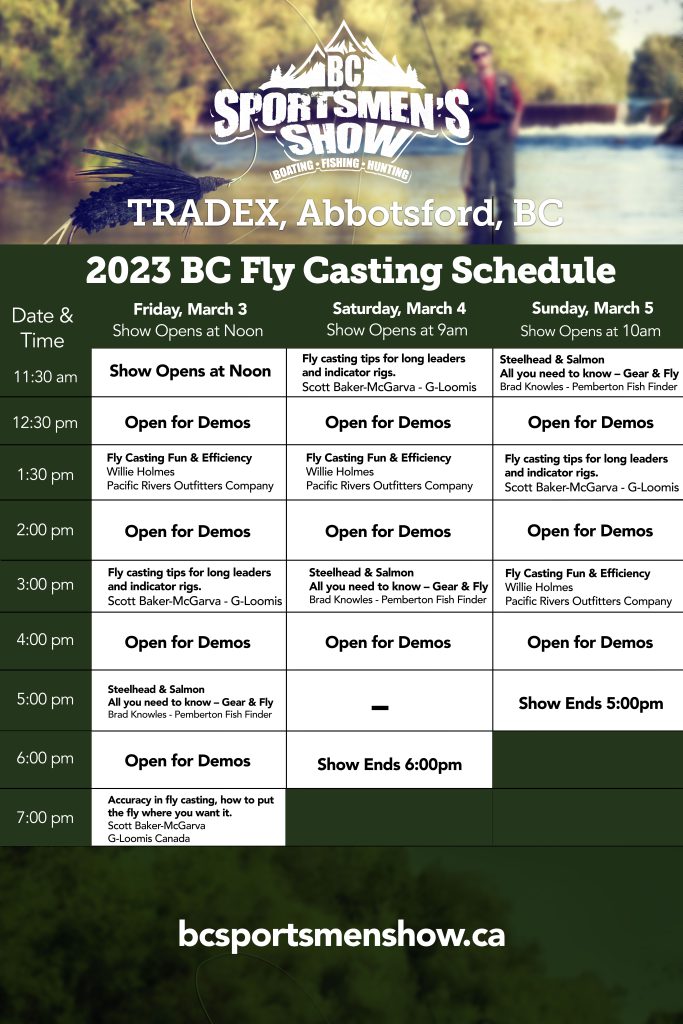 Visitors are encouraged to enter to win some amazing prizes at the show including:
 A guided fishing trip for two from Fred's Custom Tackle!
 A premium 2-3 person sleeping package from Dog House valued at over $1600
 A fishing tour for four provided by Fishfinder Pemberton
 A fishing package from Riverman Products valued at over $800
 His and Hers Seamax Stand Up Paddleboards
 And more!
Online ticketing is available now. Visitors are encouraged to take advantage of the current promo by using code "SHOWTIME" to receive $2 off. Ticket prices are $15.00 per adult, with special pricing for juniors, seniors, and families. Children 9 and under get in free!
For all the exciting show details, visit www.BCSportsmenShow.ca and follow the show on Facebook and Instagram.
SHOW HOURS:
Friday, March 3, 2023
Noon – 9pm
Saturday, March 4, 2023
9am – 6pm
Sunday, March 5, 2023
10am – 5pm
LOCATION:
TRADEX
1190 Cornell Street
Abbotsford, BC
Media Inquiries:
Les Trendall, Show Manager
ltrendall@mpltd.ca
604-864-6800
Toll Free: 1-877-888-7111
Pamela Ziwani
Exhibit Sales
888-454-7469
pziwani@mpltd.ca
Marla Kimball
Marketing & Operations Manager
780-882-7347
mkimball@mpltd.ca
Master Promotions Ltd. Has been producing trade shows, consumer shows and conferences in Canada since 1973. Managing in excess of twenty-five events annually, Master Promotions Ltd. Is Canada's largest independent trade and consumer event management company. For complete company information and event schedule, visit www.masterpromotions.ca.