For Immediate Release
Issued: March 23, 2023
Halifax, NS – The Ideal Home Show powered by Nova Scotia Power will take over Halifax's Exhibition Centre this weekend, March 24 – 26, 2023. This event brings together hundreds of Atlantic Canada's experts for an ultimate showcase of indoor and outdoor living.
"The home renovation industry has continued to grow significantly over the past few years," says Sean Miller, Show Manager. "This is the event to get inspired and kick-off big summer projects."
New this year, the show will spotlight a Clean Energy Event for visitors to learn how to become more energy efficient in cost effective ways. This event will touch on electric vehicles & bikes, solar panels, smart home automation systems, energy efficient heat pumps and more. Seminars on the main stage will also give guests an extra educational information on efficiency topics.
"We are looking forward to our new feature, the Clean Energy Spotlight, highlighting the importance of green energy, says Pat Steeves, Show Manager. "We are excited to partner with Nova Scotia Power to start promoting the importance of these opportunities for our future energy use and consumption."
Visitors are also encouraged to scan the QR code at the door to be entered to win a 4-person hot tub courtesy of the Home Depot and Canadian Spa Co. Other exciting features include the interactive booth displays provided by the Discovery Center and the seminar stage presented by Efficiency Nova Scotia. Full schedule below: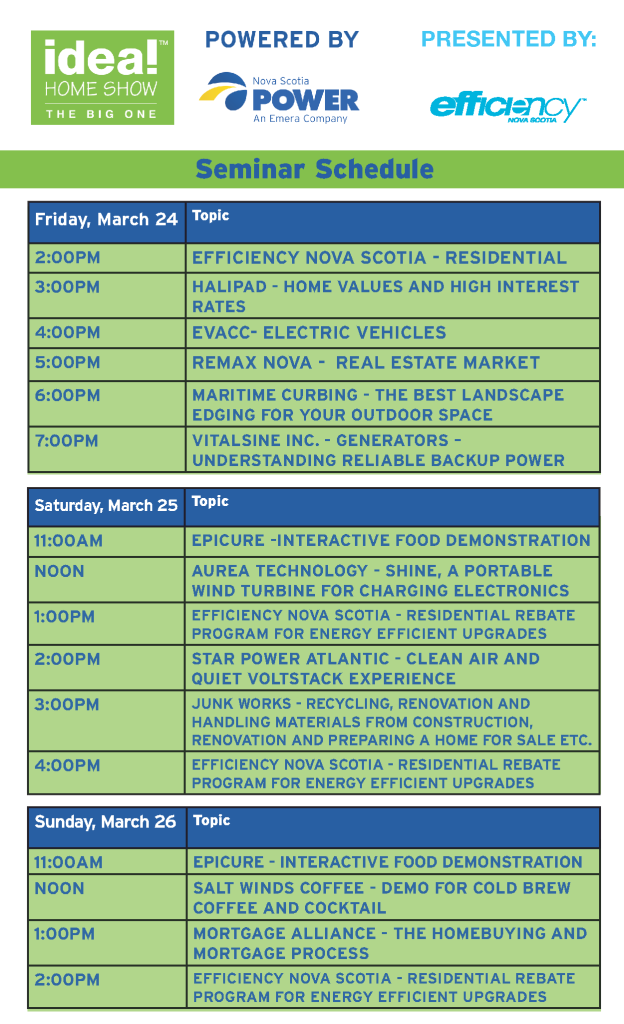 Tickets will be available at the door during show hours. Regular admission is $11.00 for adults, $9.00 for seniors and Juniors 18 and under get in free! For complete event details, please visit the show's website at www.SpringIdeal.ca or follow the show on Facebook.
ADDITIONAL SHOW INFORMATION:
Show Hours:
Friday, March 24, 2023
10:00 am – 8:00 pm
Saturday, March 25, 2023
10:00 am – 6:00 pm
Sunday, March 26, 2023
10:00 am – 4:00 pm
Location:
Halifax Exhibition Centre
200 Prospect Road
Halifax, NS
Admission:
Adult Pass – $11.00
Senior Pass (60+) – $9.00
Juniors under 18 are free
Friday Special: 50% off all categories Friday between 10:00 am and 1:00 pm
Media Inquiries:
Pat Steeves, Show Manager
Master Promotions Ltd.
1-888-454-7469
smiller@mpltd.ca
Sean Miller, Show Manager
Master Promotions Ltd.
1-888-454-7469
smiller@mpltd.ca
Michele Stoddart, Marketing & Operations Manager
Master Promotions Ltd.
1-888-454-7469
mstoddart@mpltd.ca
Master Promotions Ltd. has been producing trade shows, consumer shows and conferences in Canada since 1973. Managing in excess of twenty-five events annually, Master Promotions Ltd. is Canada's largest independent trade and consumer event management company. For complete company information and event schedule, visit www.masterpromotions.ca