For Immediate Release
Issued: March 24, 2023
Edmonton, AB – The Expo Centre welcomed over 36,000 outdoor enthusiasts to the 2023 edition of the Edmonton Boat and Sportsmen's Show. From March 16-19, the show floor was taken over by hundreds of exhibitors from the outdoors, hunting, and fishing communities who were gearing up for the upcoming season.
"It was obvious from attendance numbers and conversations with exhibitors that Alberta's outdoor community is eager to get this season started," said Show Manager, Les Trendall "We seriously couldn't have asked for a better weekend, thanks to all who came out."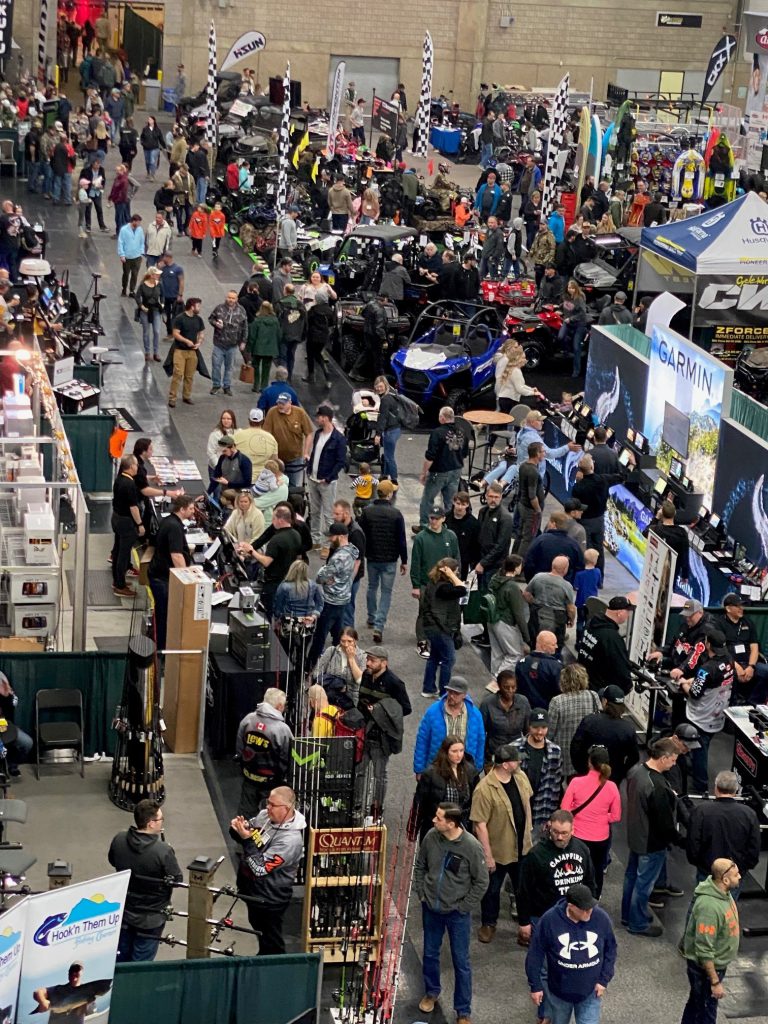 Visitors had the chance to win many great prizes over the course of the weekend. Congratulations to the following winners:
Shawn Henry, winner of a houseboating trip for 15 people, valued at $3728, provided by Twin Anchors
Amanda Knapton, winner of a $2500 Gift Certificate from Rapid Revolutions
Anita Kuffert, winner of a 'His' On-The-Go Prize Pack courtesy of Kailani
Laurie Lynn Warehime, winner of a 'Hers' On-The-Go Prize Pack courtesy of Kailani
Jayne Bauer, winner of a Benchmade Meatcrafter Fixed Blade Knife from Knife Life!
Carmen Skelton, winner of a Cellular Trail Cam provided by Reconeco
Emilian Matveev, winner of a Prize Pack from High Caliber
Matthew Jones, winner of the Scotty Boating prize pack
Alison Landon, Kyle James Ray Stotyn and Chantal Widynowski who all won a pair of Dock Shocks from Canada Dock Shoxs
Exhibitors have been quick to express their excitement to return for future editions:
"We had a great turnout and generated lots of interest in our new & existing boat lines. Looking forward to coming back next year." – Braden Panasiuk of Gibbons Motor Toys
For our first-time at the show, the experience was perfect. The people working there were nice to chat with and always ready to help. We decided before the end of the show that we would be back next year. – Eric Chaumont of Impact Outdoor Supplies
The Edmonton Boat & Sportsmen's show is one of our favorite shows to attend. It's an excellent opportunity to see our customers face to face and for them to have a hands-on experience with our product. We are pleased to say that the show is extremely organized and well put together. – Jamal of APA Archery
"We had an incredible 4 days at the 2023 Edmonton Boat & Sportsmen's Show. Lots of laughs, talking fishing and hunting with old and new friends. (Even better than laughs are the bookings!) THANK YOU to Team EBSS for making the show so easy to be a part of. Count us in for 2024!" – Kim Reeve of Adventure Destination International
This was one of the best shows that I've ever experienced in Canada. It was such a thrill watching hunters and anglers booking hunting & fishing trips with local guides and trips of a lifetime with hunting and fishing lodges. Within itself, the show was an amazing adventure. And if you weren't there, you truly missed out on one of the first outdoor adventures of the 2023 season! – Wes David of Host & Producer of Fishing the Wild West TV
This show would not have been the same without our incredible sponsors: Canadian Tire, Canadream, WildTV, AHEIA, Non-Typical Nation, NASP, Fishing the Wild West TV, Edmonton Fish & Game Association, Out Fly Fishing, YYC Nature and Education Centres, and SCI!
The show will return in 2024. For complete details, visit the show's website at http://www.edmontonboatandsportshow.ca/ and connect with the show on Facebook, Instagram.
Media Inquiries:
Les Trendall
Show Manager
ltrendall@mpltd.ca
604-309-3866
Pamela Pruden-Ziwani
Exhibit Sales
pziwani@mpltd.ca
1-403-901-5789
Marla Kimball
Marketing and Operations Manager
mkimball@mpltd.ca
780-882-7347
Master Promotions Ltd. has been producing trade shows, consumer shows and conferences in Canada since 1973. Managing in excess of twenty-five events annually, Master Promotions Ltd. is Canada's largest independent trade and consumer event management company. For complete company information and event schedule, visit www.masterpromotions.ca.